GOURME BLUE VOYAGE
Savour the Blue Living!
An unforgettable experience that would fill your appetite and your soul is waiting for you!
One of the most unforgettable experiences for our guests is the rich Aegean Cuisine we offer on our Blue Voyages. So we came up with a "Gastronomy Themed" sailing trip for you. Not only you will enjoy the spectacular food made by our chef, you will also get hands on experience in cooking them.
Sail through the beautiful shores of the Aegean Coastal line while you sip your freshly squeezed fruit cocktail. Our expert crew will lead you through the gourmet adventure. Kick back and relax, enjoy a dining experience in a natural setting, may be even under the moonlit sky, surrounded by captivating landscape.
The captain is also the chef. He's well known locally and owns one of the best restaurants in Bodrum. His passion is the sea; his sophisticated personality aside he's also a very skilled sailor. So for our guests who are just beginners in sailing there is an opportunity to learn the basics of sailing from our experienced captain in a safe environment. Before the week is over you'll become a new sailor while you enjoy your vacation.
This trip offers a lot more than just a simple holiday; it also offers good food, experience in sailing, unforgettable friendship, pleasant conversations, spectacular shoreline, amazing sea, brightest stars ever, and much more …
The tour starts in Bodrum, Bitez Marina, follows the Aegean coast to Gökova Harbour. This is only our suggestion and we're open for new ideas.

GASTRONOMİ THEMED TOUR PROGRAM: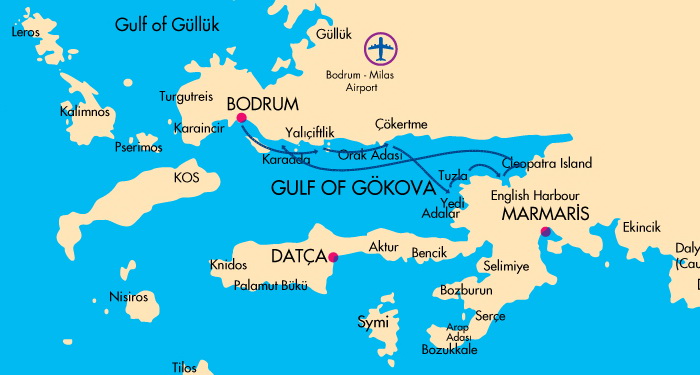 First Day: Bodrum/Bitez
Your welcome drinks will be waiting for you 45 minutes away from the airport in Bodrum at the Bitez Marina where our boat is docked. While you enjoy your meal and one of the best preserved inlets in Bodrum, we'll get to know each other and start building new friendships.

Second Day: Orak Island-Çökertme
As soon as we finish our breakfast we'll be heading toward Gökova. After we take couple of swimming breaks at Karaada and Poyraz inlets we'll anchor at Oraklar Inlet for lunch. Be prepared; if there is wind our captain has full attention of using it. For dinner we will anchor at the northern part of the inlet by the quite town of Çökertme. Along with the tradional Aegean dishes we might be having some local Çökertme Kebab.

Third Day: Seven Islands-English Harbour

Just before breakfast, early in the morning we'll be heading to Seven Islands; a group of islands from small to large, covered with Turkish sweetgum trees. The smell of the sweetgum fills your senses. Best spots to visit are Küfre, Long Harbour and Babuş Bükü, and also Bekar Harbour. Visitors enjoy spearfishing and collecting marine sponges in these waters. You could also visit the natural harbour of Küfre and go for a hike along the forest.

The southern shores of Gökova, just by the four islands there is a beautiful inlet with a long shoreline covered in pine-trees. We could anchor along these islands or in an inlet. No matter what the weather is like, you could relax in the calm waters. In the western part of the inlet there is a secluded island called Martil and in the southern and northern parts of the shorelines you could enjoy the sun and beaches where you could relax or swim.

Uzun Island, Zeytin Island and Küçük Islands are few other islands you might want to visit. These islands' beaches are partly steep and rocky. If you're a nature enthusiast you might enjoy a walk among the pine-trees. Çamaltı, Gökağaç, Karaağaç Harbour, Uzun Harbour and Küfre Inlets are some of the most popular places to anchor. All these inlets are connected to each other.

After our visit to these magnificent islands we head to English Harbour for dinner and to spend the night. According to the locals, during the WWII there were British Navy Ships that took shelter in this harbour. There were two British Fighter Planes and two pilot remains found in this harbour by Turkish divers; it is believed these planes were shot down by German anti-aircraft guns during the German occupation of the Greek Islands in 1942.

Spectacular sea, magnificent inlets and the nature will mesmerize you, but don't be late… our chef's waiting for you

Fourth Day: Sedir Island-Karacasöğüt
Right after breakfast we'll be heading out to wildly romantic and legendary Sedir Island. This island is also known as Cleopatra Island and is famous for its gold coloured sandy beach.

According to the legend Cleopatra and Antonius had the sand brought from Northern Africa just so they can enjoy swimming in that beach. Also some claim this sand is only found in Egypt. There are also few ruins from the Roman Empire in the area. After our visit to Sedir Island, we'll sail towards Karacasöğüt Harbour. You never know… our captain might find a secluded inlet for dinner; after all, no set plans, we anchor where our hearts desire.

Fifth Day: Löngöz ve Tuzla Inlets

After breakfast we sail to Löngöz Inlet. This is one of the most beautiful inlets of Gökova Harbour. The steep hills are edged with rows of trees that seem like they're gently sloping towards the water. You can enjoy nature to the fullest! Wind blows from every direction and allows mid-size boats great location to anchor in the salty lake waters or along the shoreline. Afterward our gulet sails to Tuzla Inlet for dinner and to spend the night. You could enjoy swimming in the clean turquoise waters. May be our captain will catch some fish in these beautiful waters as our dinner.
The long summer night, phosphorescence in the sea and the inviting waters might be impossible to resist; have your bathing-suits ready!

Sixth Day: Kargılı Inlet-Kise Bükü:

Early in the morning we set sail with the wind on our back towards Kargılı Inlet to have lunch and a well-deserved dip in the sea.
Right after lunch we take another swimming break at Kisebükü (Alakışla).

Kisebükü is 5 km away from Orak Island and the name 'Kisebükü' derives from a Byzantine Monastery ruins that is in the area. It's impossible to prevent all the boats from anchoring in this wide inlet. The western winds blow towards the northern part of the island where it's surrounded by mountains.
In Kise Inlet, just by Alakışla, there is an ancient monastery ruins. It is believed the name Kise came from the Turkish word 'kilise' which means 'church'. Some other places worth seeing in Kisebükü are: Yalıköyü, Akarca, Çatal, hammam, cistern and the inlet where the church ruins are. These are some of the places we strongly suggest you should visit during your Blue Voyage. You might be able to find delightfully cold, fresh drinking water in some of the surrounding inlets! Silhouette of the oleander trees hanging towards the sparkling beaches create a magnificent sight to see.

Seventh Day: Papuç Point-Yalıçiftlik-Bodrum Marina

Right after breakfast we sail toward Papuç Point. Lunch will be served at this cozy inlet. This point that resembles a nose is the perfect spot to anchor near Bodrum. We'll have our five o'clock tea in Yalıçiftlik Inlet. Afterward we'll head to Bodrum Harbour for dinner and to spend the night.

On our last night on the boat, the romantic and expert captain wants to create just the right setting for you; sight of the Bodrum Castle, glimmering lights of Cos Island and the Etesian wind blowing gently from the northwest presents the right ambience for a spellbinding evening.

Eight Day: Bitez

It's time to head back! Early risers get to jump in the inviting sea for one last dip to say their farewells; of course, who knows how many of us will be back for next year's Blue Voyage. The heart desires we all get to come back, but is it doable? If you have the money, time, health and yearning, why not? All you have to do is to ask us, we'll take care of the rest. Start planning for next year. After we're done with our breakfast we sail to Bitez Marina. While your suitcases are loaded on to the bus, bittersweet feelings take over… Hope to see you again!

P.S. For your comfort and safety, the captain reserves the right to make alterations on the planned route with the changing weather conditions.